> Advanced Architecture Awards 2023
The building sector needs a change of scenario, we are entering a new era of building, the application of technology, sustainable solutions, designing healthier and more energy efficient spaces are becoming increasingly necessary.
The Advanced Architecture Awards 2023 are intended to recognize the work, leadership and effort of those companies and professionals who are committed to transformation, disruption and innovation. For those that generate new materials, develop alternative products, more efficient equipment, building systems in line with sustainability criteria and operational processes that should help industrialize their production. Also for those that apply technology and digitalization to improve building processes.
The Advanced Architecture Awards 2023 will be presented at a Gala Dinner at the Four Seasons Hotel in Madrid on 29 March at 8.30pm.
> Topics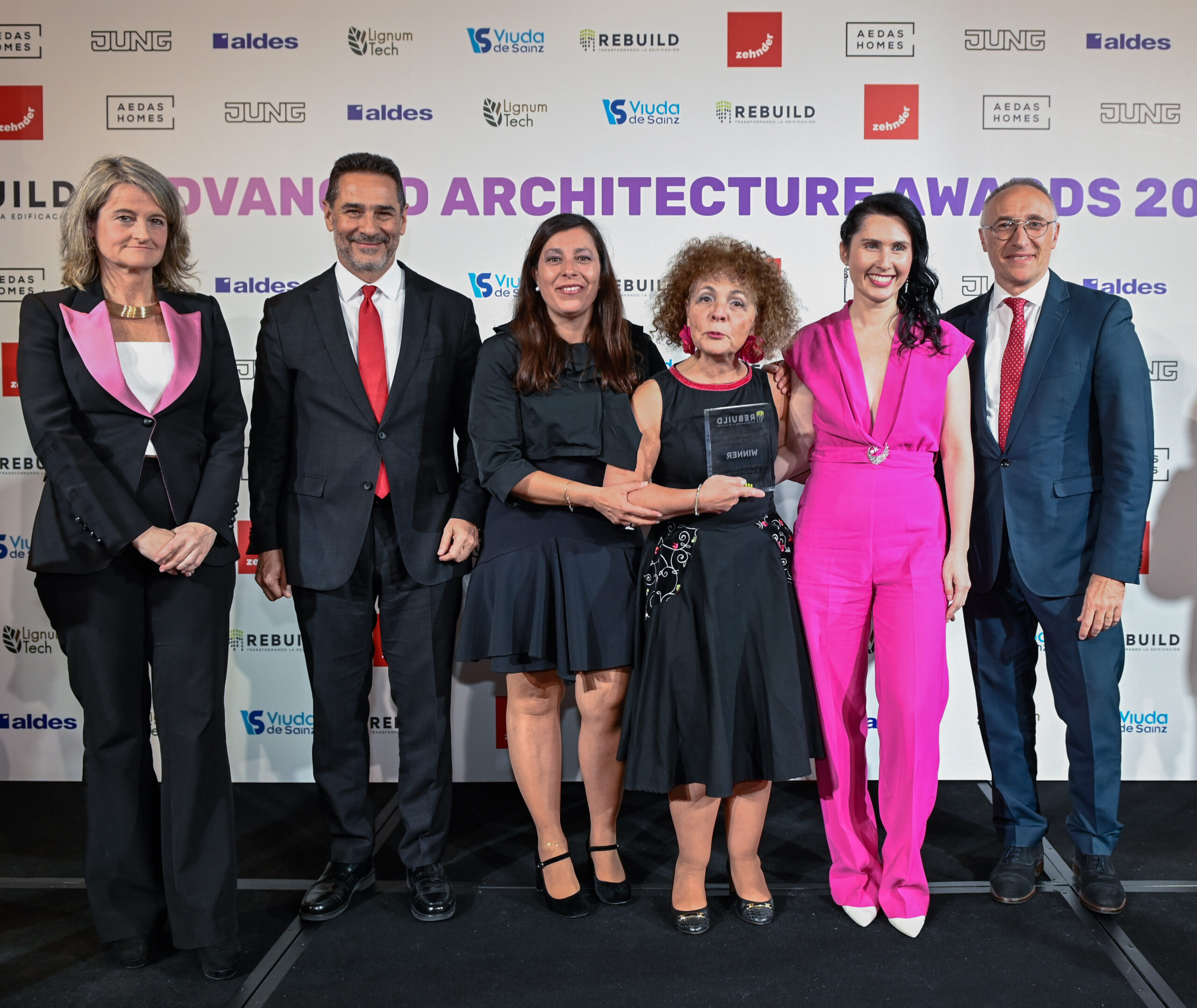 LIGNUM TECH AWARD FOR THE BEST INITIATIVE FOR THE INCORPORATION OF WOMEN IN THE CONSTRUCTION TRADES
WINNER:
Chilean Chamber of Construction, for its Women's Commission to promote actions to increase employment.
FINALISTS:
CGATE (General Council of Technical Architecture of Spain), for its analysis of the presence of women in technical architecture.
ELLA CONSTRUYE, for the Women's Construction Camps, an initiative to address labour shortages and increase women's participation in the industry.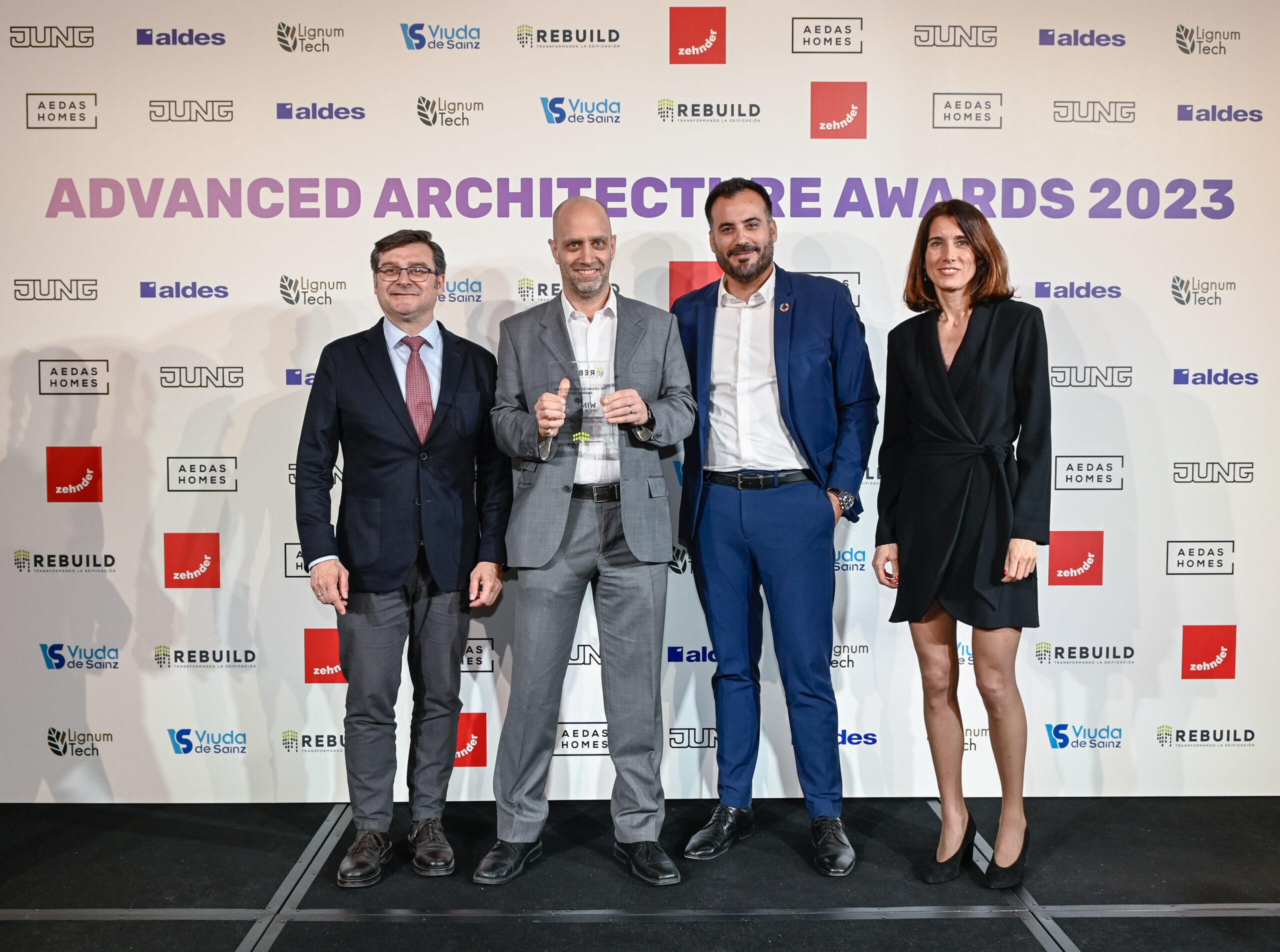 ZEHNDER AWARD FOR THE BEST PRODCT, MATERIAL OR NANOMATERIAL INNOVATION
WINNER:
Bryden Wood, for The Forge, 2 8-storey office buildings using a P- DfMA (Platform Design for Manufacturing and Assembly) design and the first commercial zero carbon building
FINALISTS:
Bryden Wood, for The Forge, 2 8-storey office buildings using a P- DfMA (Platform Design for Manufacturing and Assembly) design and the first commercial zero carbon building.
Industria Circular TNP, by POPLAC, a patented insulating, fire-retardant and high mechanical strength building material made from organic materials of natural origin.
Alpac, for Presystem, the construction system that connects façade and window insulation, guaranteeing maximum energy efficiency with a continuous envelope.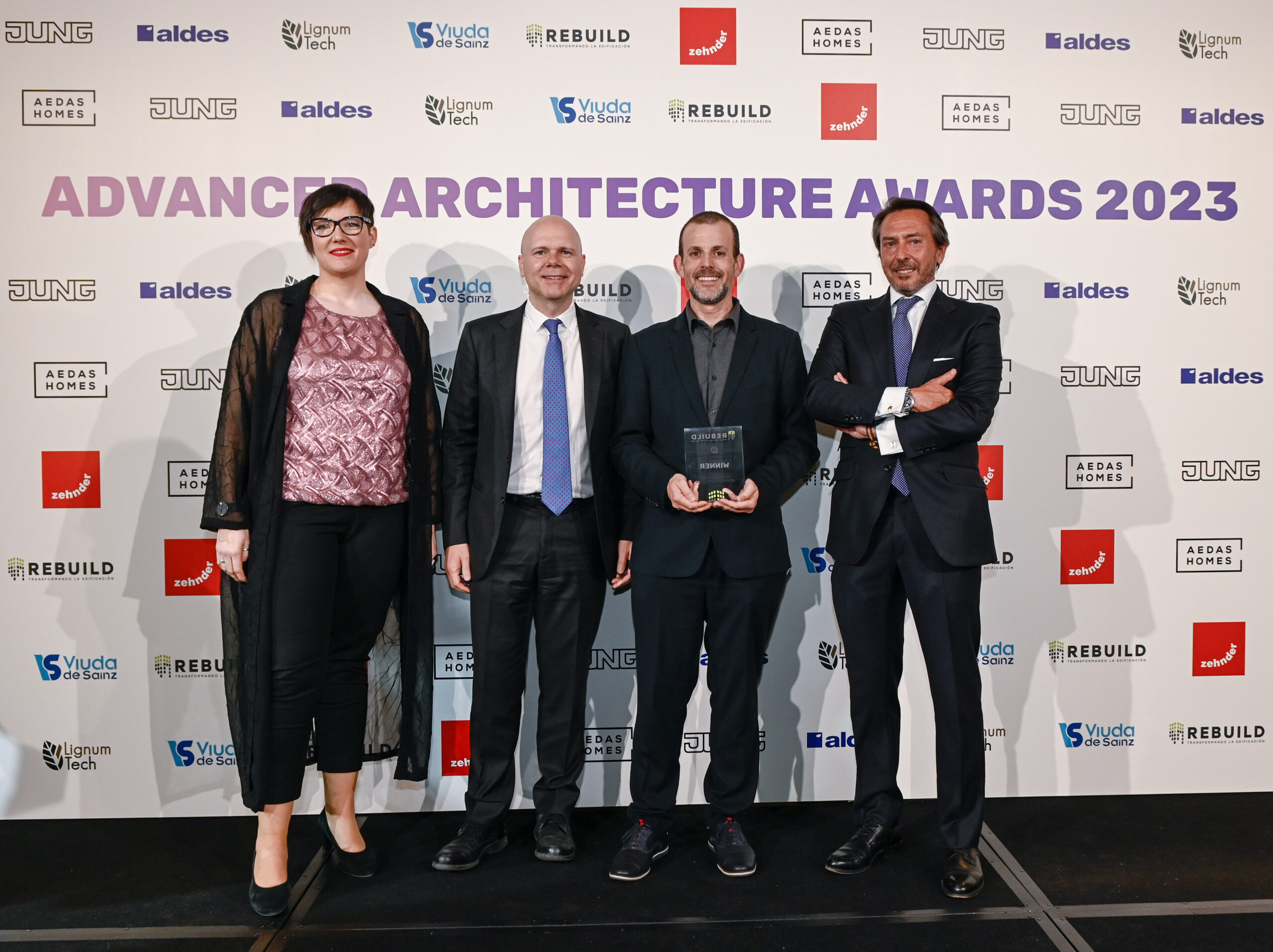 AEDAS HOMES AWARD FOR THE BEST DIGITALISATION AND TECHNOLOGICAL PROJECT
WINNER:
Tecnalia Research & Innovation, for BIM4DW, a web tool for quantifying types and quantities of materials in a building without prior information, planning demolition, waste management and estimating the costs and environmental impact of the action.
FINALISTS:
Madrid City Council, for Cibeles+, a project that breaks the digital divide and offers 24/7 access to urban planning information through smart speakers and chatbots to access the Urban Planning Regulations in seconds, using artificial intelligence and machine learning techniques.
Grupo Lobe, for Hube, a comprehensive digital transformation that covers all phases of the building process from BIM digitised projects.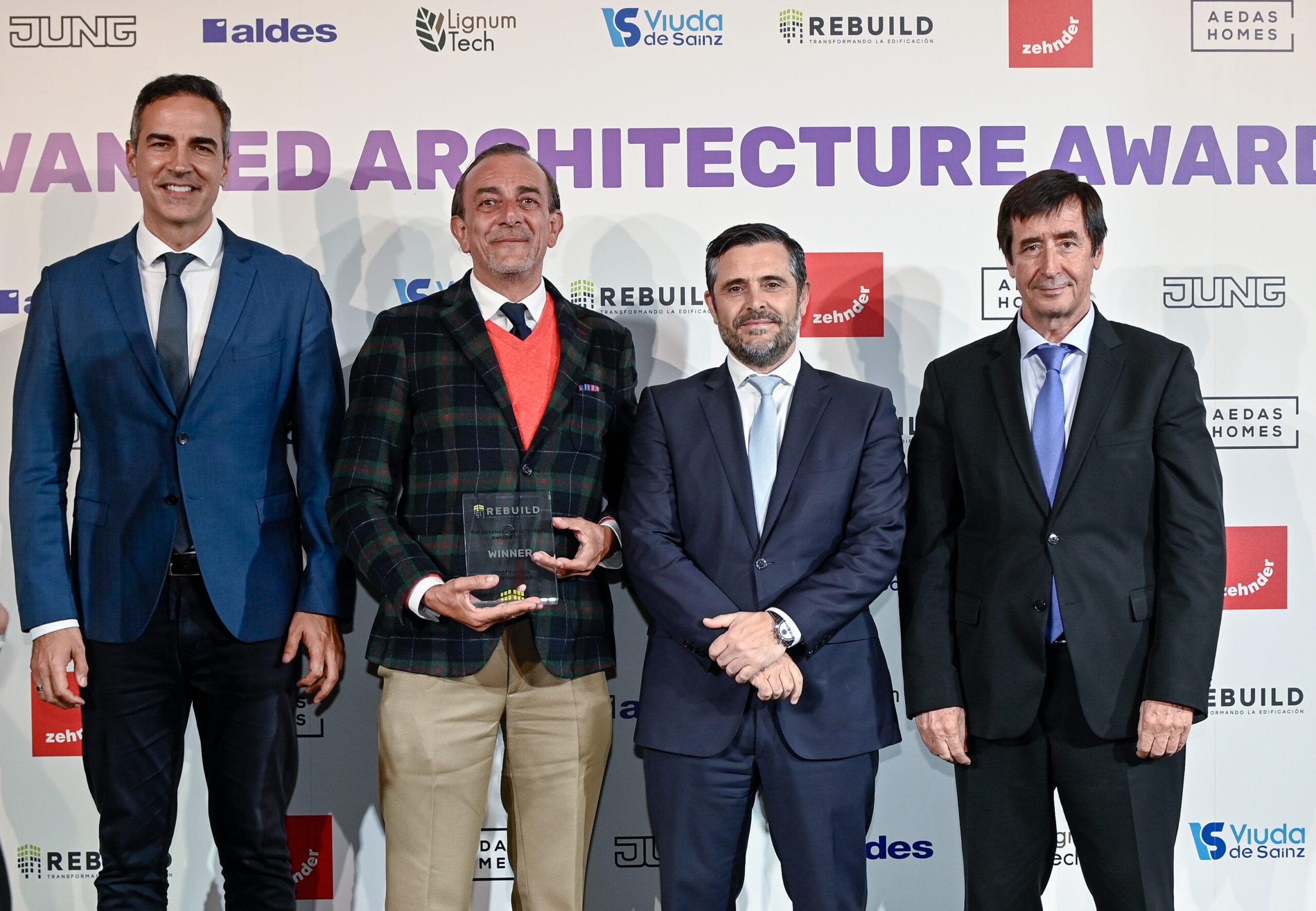 VIUDA DE SAINZ AWARD FOR THE BEST OFFSITE CONSTRUCTION PROJECT
WINNER:
Visesa, Vivienda y Suelo de Euskadi, for launching a Public Procurement of Innovation for its development of 33 subsidised housing units with the aim of selecting the optimal industrialisation proposal, developed through collaborative work.
FINALISTS:
Modulya, for Moduss Senior Living, a project that rethinks how we design, build, finance and share our residences for the elderly. The aim is to make the people who live in them feel at home.
SUMA Arquitectura, for the Gabriel García Márquez Library in Barcelona, which is presented as a sculptural volume inspired by stacked blocks of books and set on a square slightly raised above the street, whose large gaps and voids dialogue with the surroundings.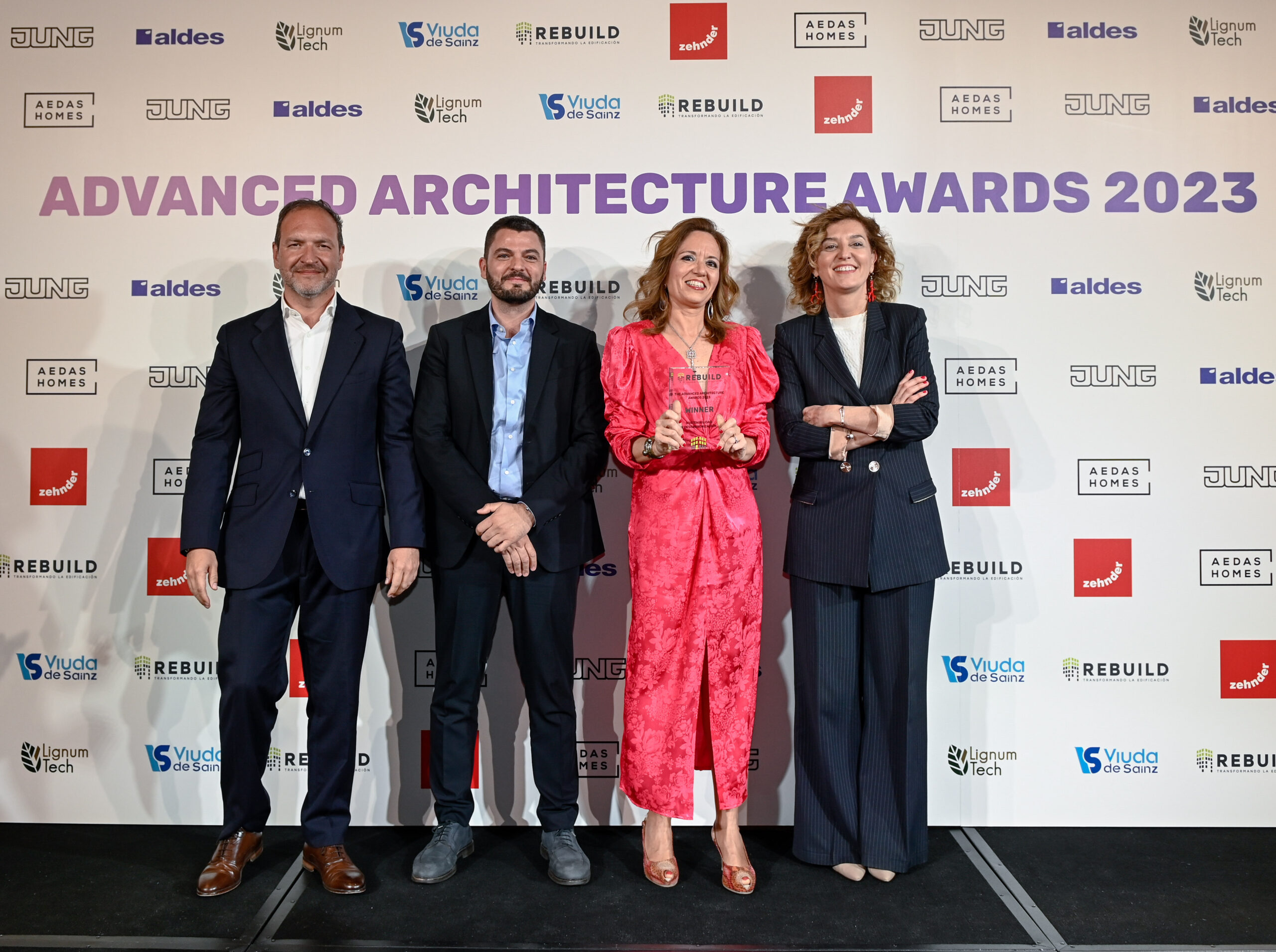 ALDES AWARD FOR THE BEST SUSTAINABILITY OR DECARBONISATION PROJECT
WINNER:
Sociedad Municipal Zaragoza Vivienda, for the Ricardo Millán building, an accessible, sustainable and efficient building. An innovative project that contributes to the challenge of "Zaragoza zero emissions" in 2030.
FINALISTS:
Thermochip, for the Thermochip-Revit plugin that facilitates the digital design of buildings in industrialised construction, and allows the life cycle analysis report to be obtained directly.
Batlleroig Arquitectura, for the new corporate headquarters of Vega Instrumentos, the first private office building with an all-wood structure, with a modular structure that allows it to be easily expanded in the future and achieve maximum efficiency.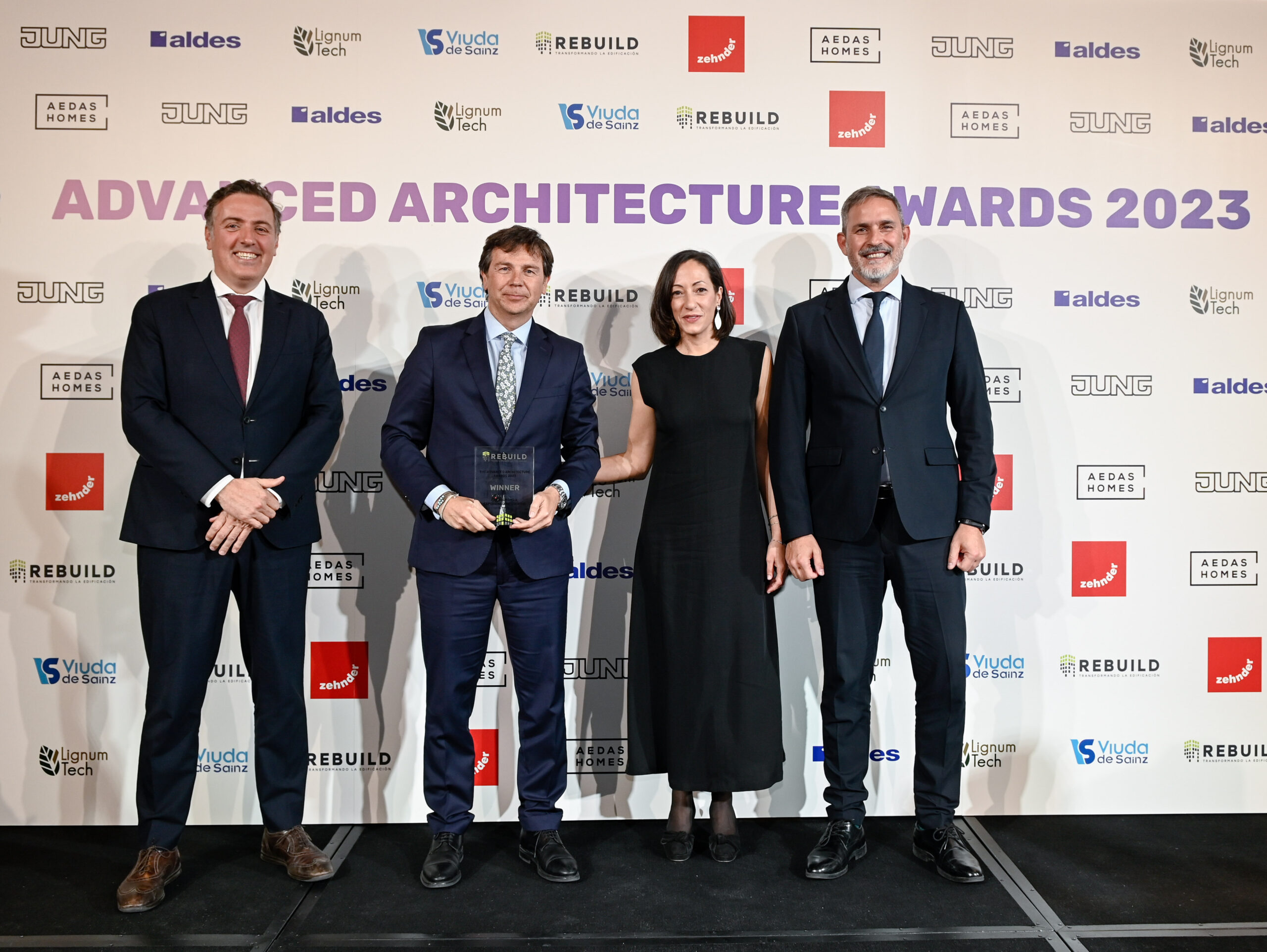 JUNG AWARD FOR THE BEST INTRIOR DESIGN AND USER EXPERIENCE PROJECT
WINNER:
Saloni, for its new Flagshipstore, a new experiential, aspirational and digitised shop model that responds to the needs of the client in the ceramic purchasing process.
FINALISTS:
Artio Studio, for Casa Ladera, a dwelling that is articulated from geometric volumes slightly rotated between them that emerge from a "hillside" and make it possible to articulate a functional dwelling in an abrupt environment.
External Reference, by Presentedby x Riyadh, a shop inspired in the oases that populate the Saudi Arabian desert and in the importance of water in these ecosystems, translated into parametric sculptures and virtual digital simulations.