The Built Environment sector is at a tipping point; chasing a commercial and demand-driven need to keep developing but clearly aware of the damage the industry is doing to our planet. This contradiction needs a new type of thinking, a new approach to development, a new type of Project Leader.
Program Details:
LAUNCH WEEKEND:
Madrid, Thursday 30 March / Friday 31 March
ONLINE SESSIONS
Tuesday 4 March to Tuesday 4 July (inclusive)
between 16:00 – 19:00 (CET) – 14 weeks
CLOSING WEEKEND
Madrid, Thursday 6 July / Friday 7 July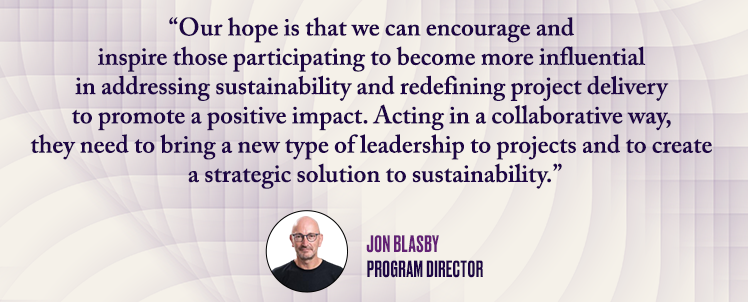 DURATION: 4 months
LANGUAGE: English
DATES: March 30th – July 7th, 2023
FORMAT: Online & Face to face
WHO SHOULD JOIN THIS PROGRAM?
AS THIS PROGRAMME IS INTENDED TO CREATE A NEW TYPE OF PROJECT LEADER, THERE IS NO BLUEPRINT FOR THE TYPICAL INDIVIDUAL WE ARE EXPECTING TO PARTICIPATE. IT COULD BE:
• Company leaders who wish to become Change Agents and inspire their employees;
• Middle managers who can sense the opportunity for a more radical approach and who wish to lead the change.
• And younger professionals determined to create a more sustainable sector. Equally, we believe the programme will be suitable to many disciplines, including Architects, Engineers, Asset Managers, Sustainability Consultants, Facility Managers, Environmental Consultants and Project Managers operating in client organisations, consultancies and public sector institutions.